04 Sep 2019
Frances Lincoln Children's Books, the back-to-back Waterstones Children's Books Prize winner imprint of The Quarto Group, is putting the final touches to a fictionalised picture book for young readers inspired by the story of global climate activist Greta Thunberg.
Greta and the Giants will publish on 19 November 2019. It tells the story of a little girl who lives in a beautiful forest threatened by Giants until there is hardly any forest left. The animals beg her to do something. But how can one little girl be heard when the giants seem so powerful?
Told as an allegory, an additional section at the back includes information about Greta Thunberg's life, how readers can help her in her fight against the giants, as well as notes for teachers and parents.
By buying a copy of the book, each reader will make a donation of 3% of the cover price to Greenpeace in the UK and 350.org in the US, charities endorsed by Greta Thunberg. The book will be printed as locally as possible for various markets and on 100% recycled paper.
Greta Thunberg's team has approved the book and considers it "a valuable and interesting project".
Greta and the Giants is authored by Zoë Tucker, a picture-book art director and designer who has worked with best-selling artists including Waterstones-prize winner Lizzy Stewart, Axel Scheffler, Nick Sharratt and Helen Stephens. It is illustrated by Zoë Persico, a rising talent with a love for the cute, the colourful, and all things whimsical, who also works as a freelance visual development artist for animation. It was commissioned by publisher Katie Cotton, who commissioned David Litchfield's The Bear and the Piano and Lizzy Stewart's There's a Tiger in the Garden, both winners of the Waterstones Children's Book Prize, Illustrated Book category in 2016 and 2017.
Katie Cotton, publisher, said: "As soon as I read this wonderful text, I knew we had to have it on our list. Frances Lincoln Children's Books has a unique ethos of creating books for children about the issues that matter today, and I can't think of another issue more pressing than the climate crisis. We are very excited to spread Greta's message and make it accessible to younger readers all over the world through this imaginative, beautifully illustrated picture book."
Frances Lincoln Children's Books has a long tradition of publishing books for children on current issues, including climate change and cultural diversity. Recent titles have included Elliot's Arctic Surprise (2015), Counting Lions (2015), The Story of Life series (first published 2018), Grandad Mandela (2018) and the best-selling Little People, Big Dreams series (first published 2016).
Greta and the Giants will retail at $17.99 hardback in the US and £6.99 paperback in the UK.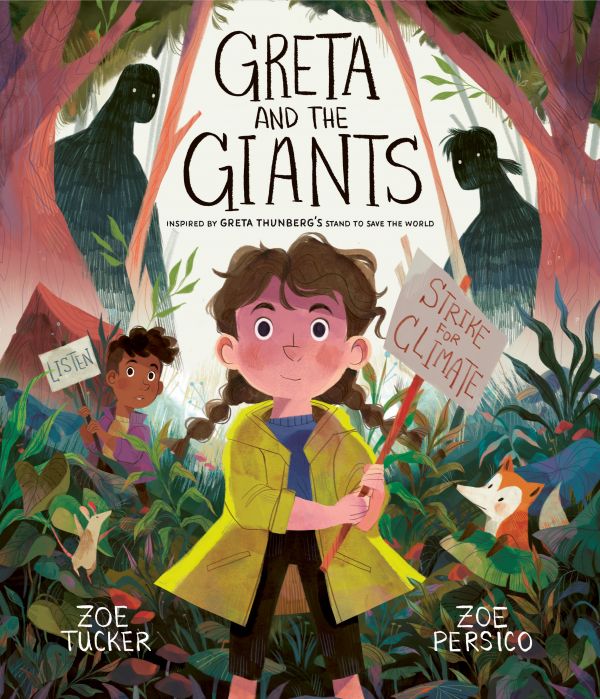 ***
About Frances Lincoln Children's Books and The Quarto Group
With a 35-year heritage of books that celebrate the diversity of our world, Frances Lincoln Children's books is the back-to-back Waterstone's prize-winning publisher of today. Boasting the best-selling Little People Big Dreams series, we also publish beautifully-illustrated natural history and novelty titles alongside our boutique picture book list.
The Quarto Group is the leading global publisher of illustrated books. Quarto encompasses a diverse portfolio of imprints and businesses that are expert in developing long-lasting content across specific niches of interest for adults, children and the whole family.
Quarto sells its products globally in over 50 countries and 40 languages and employs c.330 people in the US and the UK. The group was founded in London in 1976. It is domiciled in the US and listed on the London Stock Exchange (LSE: QRT). For more information, visit quarto.com or follow us on Twitter at @TheQuartoGroup.
About Greenpeace
Greenpeace is a movement of people who are passionate about defending the natural world from destruction. Our vision is a greener, healthier and more peaceful planet, one that can sustain life for generations to come. We are independent. We don't accept any funding from governments, corporations or political parties – our work is funded by ordinary people. That means we are free to confront governments and corporations responsible for the destruction of the natural world and push for real change.
We do this by investigating, documenting and exposing the causes of environmental destruction. We work to bring about change by lobbying, consumer pressure and mobilising members of the general public. And we take peaceful direct action to protect our Earth and promote solutions for a green and peaceful future.
Greenpeace was founded in 1971 by a small group of concerned individuals, who set sail to Amchitka island off the coast of Alaska to try and stop a US nuclear weapons test. Their old fishing boat was called "The Greenpeace". Today, Greenpeace is present in over 40 countries around the world. Our movement is growing every day and our commitment to realising our vision is as strong as ever.
We find ourselves at a pivotal point in human history now. Climate change is rapidly accelerating and we are feeling the effects of it ever more – in the changes to our air, sea levels and more extreme weather events. The need to act to protect our planet has never been so urgent, yet governments and corporations are still dragging their feet. Our mission is to promote radical changes and new solutions to the ways we live on this planet so that we can all call it home for generations to come.
About 350.org
350.org was founded in 2008 by a group of university friends in the United States along with author Bill McKibben, who wrote one of the first books on global warming for the general public, with the goal of building a global climate movement. 350.org was named after 350 parts per million — the safe concentration of carbon dioxide in the atmosphere.
Our first actions were global days of action that linked activists and organizations around the world, including the International Day of Climate Action in 2009, the Global Work Party in 2010, Moving Planet in 2011. 350.org quickly became a planet-wide collaboration of organizers, community groups and regular people fighting for the future.
Today 350.org works on grassroots campaigns across the globe: from opposing coal plants and mega-pipelines, to supporting renewable energy solutions and cutting financial ties of the fossil fuel industry. All of our work leverages people power to dismantle the influence and infrastructure of the fossil fuel industry.
Some of our proudest moments of recent years include campaigns against Keystone XL and Dakota Access pipelines in the United States, stopping fracking in hundreds of cities in Brazil and Argentina, joining historic grassroots mobilizations before and after the Paris Climate Agreement was signed, and pushing hundreds of universities, foundations, cities and churches to divest from fossil fuels.