700,000 copies to be given out to Reception aged kids in England
02 May 2019
This September, 700,000 school starters in England will receive their very own copy of the book The Cave, published by Frances Lincoln Children's Books, an imprint of The Quarto Group, as part of BookTrust's annual Time to Read campaign.
Now in its fourth year, the Time to Read campaign from the UK's largest children's reading charity encourages families to make time to read together, share stories every day and find the fun in reading.
This quirky picture book tells the tale of a curious, persistent and very hungry wolf and a secret little creature that will keep kids guessing. The Cave is a laugh-out-loud story with a very BIG surprise accompanied with glorious artwork, bursting with colour and warmth. Written and illustrated by the renowned Rob Hodgson, The Cave teaches a very important lesson about perspective and not to judge others too quickly.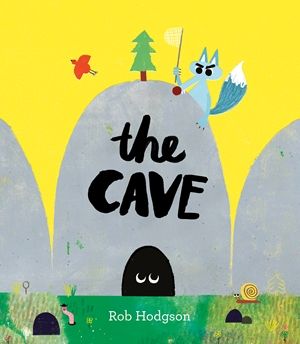 BookTrust Chief Executive Diana Gerald said: "This colourful, humorous and entertaining book will get children excited about stories. BookTrust aims to ensure that all children, regardless of their background, have access to books and enjoy the magic that stories can bring to their lives. The Cave is beautifully illustrated and perfect to get little ones giggling, asking questions and having fun."
A panel of experts chose The Cave because of its vibrant and fun illustrations, its mystery, humour and great messages of persistence and not underestimating the people around you. It's also a great book to keep kids guessing, using their imagination and talking about the seasons.
Rob Hodgson, author and illustrator of The Cave commented: "Being selected for the BookTrust Time to Read campaign is a huge honour. I never could have imagined that the book (and the worm!) would get to reach so many people's lives. I don't think I'll ever wrap my head around what that many books looks like and I'm so very humbled that The Cave will be the first book that some kids ever own."
Every reception age child in England will start receiving The Cave at school from September. The book is delivered inside a special Time to Read pack that each child gets to keep and take home. Inside each pack is a message for families about the importance of shared reading, alongside practical tips and advice to help them bring the story to life at home. booktrust.org.uk/timetoread
Katie Cotton, Publisher for Picture Books, Frances Lincoln Children's Books commented: "In a time of library cuts and squeezes to school budgets, the BookTrust Time to Read campaign is more important than ever in ensuring that young children have access to stories. We are simply thrilled that The Cave has been chosen as the story to start them off on their reading adventure. We hope that this funny story will teach children everywhere not to take everything at face value… and show them that life is full of surprises!"
Click here for the full press release on BookTrust's website