11 Dec 2017
Set up by the UN General Assembly, International Volunteer Day is held each year on 5 December. It is a unique chance for volunteers and organisations to celebrate their efforts.
At Quarto, all our offices have been supporting local charities this year through our new Quarto Foundation initiative. So on International Volunteer Day, several offices in the UK and the US celebrated with volunteering activities.
Two of our Quarto Foundation Ambassadors, Jessica Cropper and Jonathan Simcosky, tell us what happened on the day.
Jessica Cropper, Publicity and Marketing Assistant, London Angel Office (UK)
"Our office charity is The Reading Agency which aims to inspire people of all ages and all backgrounds to read for pleasure and empowerment.
I spent the day at The Reading Agency's office, supporting their team. In the morning, I helped them upload the World Book Night list to their website (they will announce the list next week, so great to get a sneak preview!) and then helped transport lots of excess books down to the café for the public to help themselves.
My next task was to take some professional photos of the World Book Night books in advance of an Instagram campaign they're running next week for the big reveal. After lunch, I researched potential children's books that the Reading Agency could recommend on social media next year.
I chatted with the Reading Agency's team about their upcoming projects such as Reading Friends, a programme that uses reading to prevent isolation, especially with older people. They also have another scheme coming up; Reading Hack, which encourages young people to volunteer in libraries.
I'd love to go back!
Highlights of the day included getting creative and experimental on Instagram, it was also fantastic that on the day I volunteered they were giving books away for free!
It was great to see the charity in action and to understand how it functions on a day-to-day basis. It really brought it to life that there are a team of people busying themselves everyday in order to deliver really worthwhile projects to the community. The people who work there are passionate about using reading and literacy to help improve people's lives in various ways, and it's great that the Quarto Foundation has helped our office connect with a local charity that is using books to such a great effect.
The Reading Agency said they were happy to have me to give me a flavour of the charity and I'd love to go back!"
Jonathan Simcosky, Acquiring Editor, Boston North Shore Office (US)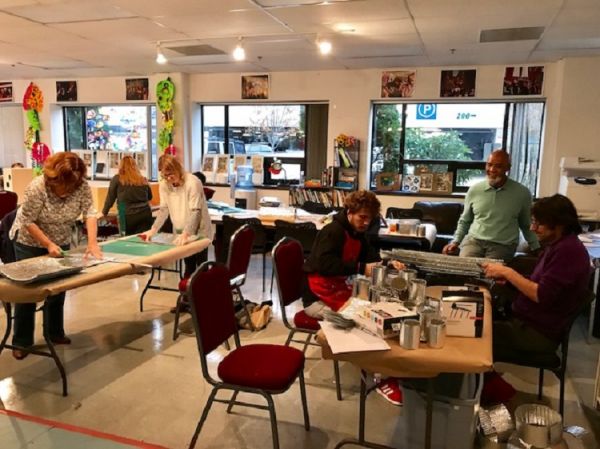 "Our chosen charity is Express Yourself, which immerses young people in the arts where they find a powerful tool for self-expression, uncover inner strength and deepen connection. Their office and studio is actually located one floor down from our Boston North Shore office, so it couldn't be more local to us!On the day, about a dozen Quarto colleagues went down to the Express Yourself studio to help them prepare props and sets for their upcoming mainstage production: Alive!
We managed to save their charity hours of works and we also have plenty of fun too!
Every department in our office was represented, with especially a strong turnout from our in-house designers. We had some great conversations with the Express Yourself team and some students from a local recovery high school. It was fantastic to get to know our community better. Volunteering was a great experience. We managed to save their charity hours of works and we also have plenty of fun too!
We're also planning a paint night fundraising event for January, that will bring Quarto colleagues into Express Yourself's creative space once again!"